Dave Williams, Chief Meteorologist for Channel 4,  is buying dinner and blogging about his experiences on the town!  Follow along every Thursday as we release clues of where Dave plans to eat each week. He'll show up, order dinner, and pick up $50 of the check for someone at a table nearby. It's called #DinnerOnDave.
#DinneronDave~ Cru Cafe Edition: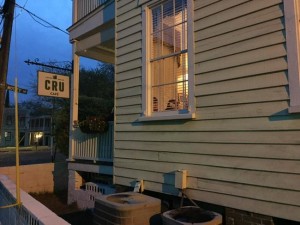 ­­ Back to downtown Charleston for #DinnerOnDave, back where it all began
about two months prior. This Thursday, I was just north of the market to a well­ established restaurant that's been a staple since 2002, Cru Café for dinner. Walking up Pinkney Street, I could hear the chorus of diners sitting out on the porch enjoying libations, food and each other's company. Joining me for dinner was my lovely wife Heather.
Cross the porch at the side of the historic Charleston row house and you're in a cozy room with two larger community tables and a dining bar attached to the open kitchen. We sat in the adjacent dining room, which is intimate with about 8­10 tables, reservations highly recommended. I was feeling a salad, so I started with the Duck Confit Arugula salad; Heather said it looked too pretty to eat. Indeed it was not, scrumptious it was, especially the candied pecans.
Cut to the chase and the entrees were up next. She got the Ginger Seared Salmon over lemon risotto and
sautéed vegetables. The salmon had a nice sear on the outside and was moist and tender on the inside, it went very nicely with the risotto which had a nice earthy flavor to it. The veggies were good, and Heather does not like green beans, so I polished those off! I didn't need the beans, because my Pork Loin Schnitzel with lemon caper pappardelle pasta was HEARTY. I encounter many people who have no idea what a schnitzel is. It's simply a piece of meat, in this case pork loin, pounded thin, seasoned, floured, given a bath in egg wash, rolled through bread crumbs and sautéed to a golden brown. Cru Café, does it better than any that I've had in a very long time, including my own, which is not too shabby.
I am a savory eater, but Heather has a sweet tooth, and I'm glad she does, because she ordered the peach
strawberry bread pudding. It was the perfect finale to what was a very enjoyable evening. The couple that won #DinnerOnDave and got the $50 gift card was Chris and Nicole Ahn. They were driving
from Florida and making their way slowly back to Raleigh. They decided the Holy City was the perfect place to stop and celebrate Chris' Birthday. They were a joy to talk with and I think they reveled in their meals even more than Heather and I did.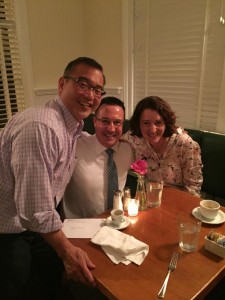 Yes Nicole I will get the Osso Bucco next time! At the end of the day, I'm a sucker for the Sound of Music, have been since I was a kid. You know, "doorbells and sleigh bells and schnitzels with noodles," these are a few of my favorite things!" Add to my favorites list Cru Café.
For more pictures of Dave's night at Cru Cafe and the full article visit: www.abcnews4.com
https://crucafe.com/wp-content/uploads/2015/03/IMG_6915.jpeg
2448
3264
admin
http://crucafe.com/wp-content/uploads/2017/05/logo-cru-cafe-340x156.jpg
admin
2015-03-30 16:40:21
2015-03-27 16:40:34
Dinner on Dave- Cru Cafe