While we adore Chef John, we thought it was time his right-hand-man got to share in the spotlight. Travers Horton is the culinary talent behind many of our delicious dishes at Cru. As Chef de Cuisine, Travers, has been a part of the Cru Crew since 2008.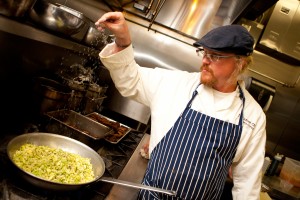 Travers' claim to fame, in his opinion, is his Bar B Que. He says, "BBQ isn't simply applying BBQ sauce to meat and throwing it on the grill.  Cooking with a smoker is somewhat of an art, a difficult one, if you've ever tried it yourself. "
His personal favorite Cru Café item is the BBQ Beef Brisk sandwich with house made southern slaw.  Personal Tip? "End a Cru meal with our unique calamari with sesame dressing."
When not chowing down at Cru Café Travers enjoys dining at Wild Olive, Italian food being among his favorites. He can't resist a nice glass of their red wine, veal Bolognese or their lamb lasagna.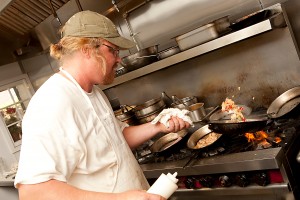 Who is Travers?
Travers, born on an American base in Germany, moved to Spartanburg at the age of 3. Since age 20 Travers has been involved in the culinary field, working in places like Southern BBQ in Spartanburg, Charleston Chops and Granville's.
Shortly after beginning his culinary journey Travers moved to Charleston and attended Trident Tech for their Culinary Arts program.  During school he joined the Charleston restaurant industry by washing dishes under Frank Lee at SNOB.
Travers soon felt the position at SNOB was more helpful, hands on and educational than the courses at TTC.   He spent the next 7 years at SNOB with Frank Lee as his mentor, gaining valuable knowledge in the culinary industry.
Next time your in the Cafe- make sure to say HELLO to Chef Travers! Cheers!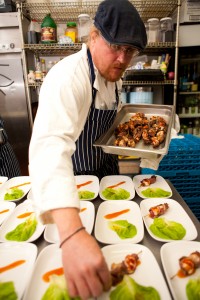 https://crucafe.com/wp-content/uploads/2013/12/Travers3.jpg
4368
2912
admin
http://crucafe.com/wp-content/uploads/2017/05/logo-cru-cafe-340x156.jpg
admin
2013-12-30 10:25:11
2014-01-21 17:21:34
Meet our Chef de Cuisine- Travers Horton