From the creative and brilliant mind of our own Chef John Zucker is his insight into the beautiful gardens flourishing in a parking lot on Harmon St. 
The idea of planting the raised gardens just simply developed. We had an empty parking lot next to our kitchen and wanted to see if we could grow some fresh goods. We always knew we could never grow enough to supply either company (Cru Cafe or Catering), but once we get better at it we can grow ingredients that will educate my staff more inspiring new menu items and creative dishes.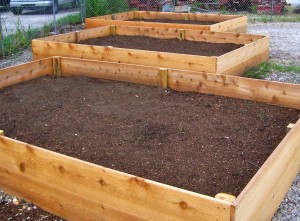 The raised gardens were planted late in the season last year. We had limited success to begin with, but about seven weeks ago we replaced the dirt with an organic mushroom compost and tried to map out a plan, and it all has just taken off! We started with three beds and we are going to install three more in a few weeks. Currently we have Tomatoes, Cucumbers, Watermelons, Radishes, Three different Peppers, Collards, Yellow Squash, Carrots and Baby Potatoes, Flat Leaf and Regular Parsley, Basil, Thyme, Mint, Oregano, Opal Basil and Chives. We also have a Lemon and Lime tree for down the road.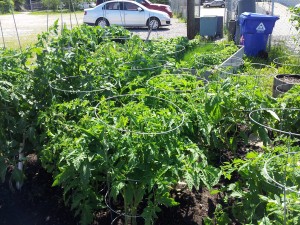 Because we use so much the production is not nearly enough but as we learn more about the growth we will plan our beds better in the future. Right now we use them in our catering to supplement what we currently purchase. However, I will say the quality of our herbs from our garden is so much better than what we purchase! They seem to have a more robust flavor than what we get elsewhere. The Thyme has so much more flavor that we even have to scale back when we use it.  My favorite vegetable from our garden is the collards! They are very tender and have an amazing flavor.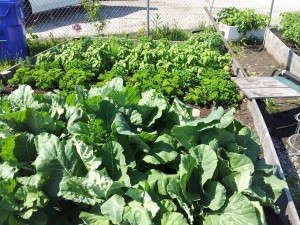 In the cafe we are planning to work them into our specials. People definitely enjoy knowing that it has come from our personal garden. It's just a lot of fun right now.
According to Chef John it's just a matter of trial and error. Take risks and be creative! You never know what you may end up with!
See our own Chef John and Cru featured in the Post and Courier showcasing Cru's fresh herbs!
https://crucafe.com/wp-content/uploads/2013/06/20130510_160022.jpg
2448
3264
admin
http://crucafe.com/wp-content/uploads/2017/05/logo-cru-cafe-340x156.jpg
admin
2013-06-17 10:23:56
2013-07-14 18:28:44
Insiders Scoop on Cru's Gardens