In the hopes of an early Spring and some warmer Charleston weather we thought we'd share Chef John Zucker's tasty recipe for BBQ Half Cornish Hens.
Here's to Summer time in the Low Country- Bon Appetite.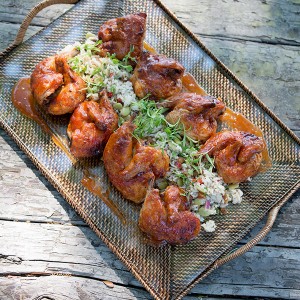 Ingredients:
4 whole Cornish game hens
Salt and pepper
Barbeque sauce
Barbecue Sauce
2 tablespoons olive oil
1 cup diced yellow onion
¼ cup chopped garlic
1 cup white vinegar
2 cup bourbon
1 cup honey
¼ cup molasses
1 tablespoon red pepper flakes
3 cups ketchup
Directions
Preheat oven to 375 degrees. Cut hens in half starting from the breast removing the breast bone. Remove the rib cage. Shape into a ball and put a skewer through the bottom length wise to hold the hen in the ball shape. Salt and Pepper liberally.
Place in the oven until lightly brown on top, about 25-30 minutes. Turn the oven down to 350 degrees. Baste three times with the BBQ sauce for the remaining ten minutes at 350 degrees. Remove from the oven and serve. We suggest you serve it with a Carolina Gold rice and butter bean salad.
Barbeque Sauce
In a medium saucepan over medium heat, heat the olive oil. Caramelize the onions and garlic in the olive oil until browned. Deglaze the sauce pan with the vinegar and bourbon. Continue to cook for 4 minutes.
Add the remaining ingredients and simmer for thirty minutes. You may need to add a little water to thin it out for the cooking process. Puree lightly in blender and serve.
For a printable version visit Chef John's feature on The Local Palate
https://crucafe.com/wp-content/uploads/2016/02/BBQ-Cornish-Hen_LeighWebber-600x600.jpg
600
600
admin
http://crucafe.com/wp-content/uploads/2017/05/logo-cru-cafe-340x156.jpg
admin
2016-02-25 18:35:38
2016-02-09 18:52:39
Chef Zucker's BBQ Half Cornish Game Hens~ Cru cafe Charleston