If you've been around the Cafe lately you may have seen some new faces in the kitchen. Cru Cafe is excited to formally introduce our NEW Chef de Cuisine Erin Guilfoyle. Erin is no stranger to the Cru family and we are thrilled to have her taking the cafe by storm.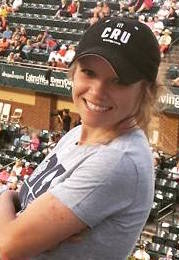 Chef Erin comes to Cru Café from Geneva, New York in Finger Lakes Wine Country. Steeped in the world of restaurateurs since the age of 13, Erin has cultivated an intimate relationship with food and culture developing her craft with experience in over 20 restaurants acting as prep cook, line cook, restaurant stagier and sous chef.
Erin relocated to the Lowcountry attending the College of Charleston graduating with a degree in Psychology. Initially, she entered Cru Café to grab lunch on the suggestion of a friend. "I was so impressed by the servers' food and wine knowledge for such a casual environment," said Erin. She returned multiple times, finally asking for a position and was hired on the spot. Erin has been a member of the Cru family since 2007.
Erin's favorite way to hone and refresh her craft is through restaurant staging. Assisting other venues and restaurants in creating the perfect atmosphere for their guests keeps her close to the roots of her craft and "helps clear the mind of the everyday rituals chefs tend to find themselves caught up in."
What is Erin's personal favorite food? Seafood. However, outstanding chicken wings and tactfully assembled tacos come in a very close second. When it comes to cooking Erin feels fresh is essential and selects the most appealing ingredients at the market to create mindful and beautiful fare.
When it comes to dining at Cru Café, Erin says it's hard to beat the "Duck Confit and Arugula Salad with Candied Pecans and Fried Onions. I love the constant textural contrast in every bite."
Erin lives in Charleston with her 11-year-old fox dog, Kramer. When not assembling thoughtful and delectable dishes at Cru Café Erin enjoys lending her time to Feed The Need Charleston and other local causes in the Lowcountry.
https://crucafe.com/wp-content/uploads/2013/04/Cafe01.png
1716
1657
admin
http://crucafe.com/wp-content/uploads/2017/05/logo-cru-cafe-340x156.jpg
admin
2016-03-16 01:39:18
2016-03-20 16:18:27
Welcome Chef De Cuisine Erin Guilfoyle ~ Cru Cafe