With fresh Seafood breaching the Charleston waters in the coming weeks as warm weather begins to approach we thought we'd share the recipe for Cru's beloved Thai Seafood Risotto- courtesy of Chef John Zucker.
Thai Seafood Risotto
Serves Four People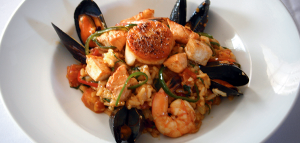 Making the Risotto
1ea Box Risotto (usually a one pound box)
1ea Whole White Onion Finely Diced
2 cups White Wine
1.25 qt Chicken Stock (this may very depending on the risotto)
1/4 cup Olive Oil
Over medium high, heat a large sauce pan. Add the oil to the hot pan and then the diced onions. Sauté the onions until translucent. Add the risotto and continue to sauté, STIRRING CONSTANTLY with a wooden spoon, until the risotto becomes slightly translucent. Add the White wine and continue stirring until the wine has been absorbed by the risotto. VERY IMPORTANT, Always stir your risotto to help bring out the natural starches and creamy consistency of the rice. Add the chicken stock one cup at a time continuing to stir. Always wait until the risotto has absorbed the stock before you add anymore. Continue this process until the rice is "el dente"(el dente = hard to tooth). Place the almost cooked risotto on a sheet tray and spread it out to cool down. Place in the refrigerator until cool.
Thai Risotto
Risotto – Enough for four servings
12ea Mussels
4ea U-10 Scallops
1lb Seafood (any very fresh seafood, Tuna, Grouper, Salmon etc.) Cut into ¼ inch cubes
8ea 21-26 Shrimp
1/4cup Olive Oil
1cup Chicken Stock (or fish stock, or shrimp stock, this can vary)
2T Chopped Shallots
1T Chopped Garlic
2T Coconut Milk
2T Soy Sauce
1ea Chopped Tomato (prefer Concasse)
1ea Julienne Red Pepper
1ea Julienne Poblano Pepper
1T Chiffonade Thai Basil
1/2t Fish Sauce
¼ cup Unsalted Butter
1/2t Chopped Thyme
1T Hot Sauce (or cayenne)
Heat over medium high heat a large sauté pan or a risotto sauté pan. Place all the seafood on a plate and season hourly with salt and pepper. Add the Olive Oil to the already hot sauté pan. Add the Shallots and Garlic and sauté until translucent. Add all your seafood and sear until half cooked. Remove the seafood from the pan and place on another plate. Add your Tomato, Julienne Peppers and Risotto to the pan. Stir in, with a wooden spoon ¼ cup of chicken stock. Always continue to stir the risotto. Then Slowly add the Coconut Milk, Soy Sauce, Fish Sauce, Hot Sauce and more Chicken Stock. Add the seafood continuing to stir. Last add the basil, Thyme and Butter continuing to stir. Add more stock if needed to create a creamy consistency. All this happens with a hot pan. The risotto should still be slightly "el dente". Arrange the seafood around the risotto in four large bowls.
http://crucafe.com/wp-content/uploads/2017/05/logo-cru-cafe-340x156.jpg
0
0
admin
http://crucafe.com/wp-content/uploads/2017/05/logo-cru-cafe-340x156.jpg
admin
2013-03-10 02:00:36
2013-03-04 15:17:54
Try Your Hand at Our Thai Seafood Risotto