Charleston Magazine met with our Owner/Chef John Zucker to discuss some new tasty takes on cooking with Figs. Enjoy a preview below, and visit Charleston magazine for the full article and detailed recipes from Chef Zucker.
John Zucker, chef and owner of Cru Café and Cru Catering, remembers taking his first bite of a fresh fig at his family home in Southern California. "My grandfather was in the wholesale produce business and would bring us the best handpicked fruit," recalls Zucker. "The day I learned what a real fig tasted like, I ate the heck out of them."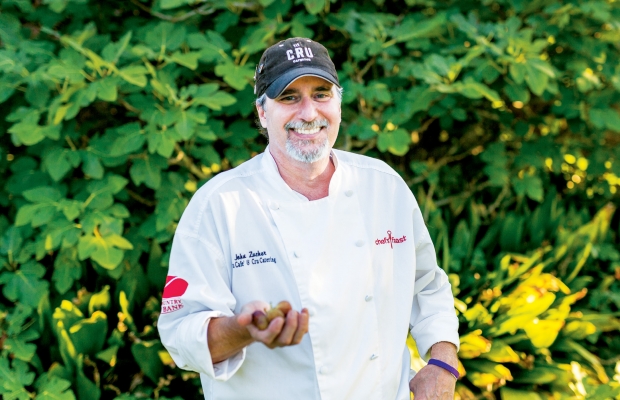 When tasked with creating three recipes with the fruit, Zucker chose Black Missions; their thick skin and long California harvest season make them likely to be found in grocery stores even after the local fig season is over.
First up, he offers a port wine, roasted fig, and Brie appetizer that, when accompanied by crostini or crackers, emphasizes the sweetness of the fruit and complements the buttery creaminess of the cheese.
He doubles down with a fig-glazed grilled swordfish with a fig salsa. Combined with fresh local swordfish, the fortified glaze is surprisingly subtle, letting the salsa deliver a contrasting snap. To round out the plate, Zucker pairs the fish with a simple fingerling potato and green bean "hash" that may just become your favorite summer grilling side. Visit charlestonmag.com to get the hash recipe.
The combination of prosciutto, figs, ricotta salata, and arugula pesto in a panini may become a habit. "The saltiness of the prosciutto and ricotta salata and then the peppery garlic flavor of the pesto on top of the fresh sweetness of the figs is the ultimate mouth explosion," he says. "It's making me hungry just describing it."
A tip from the chef: "Figs tend to have a short shelf life and are best eaten as soon as possible. Storing them in the refrigerator can help keep them fresh longer, but it tends to change their taste. If refrigeration is a must, place the figs on a baking sheet and try not to let them touch. Above all, don't cover them too tightly or wrap them in plastic. Instead, use a piece of dry linen to form a moisture barrier."
Dishing It Up with chef John Zucker: 
Restaurant & Biz: Cru Café and Cru Catering
First F&B Gig: "I started as a busboy at The Whale's Tale in Breckenridge, Colorado."
Education: Le Cordon Bleu in Paris
Favorite Local Ingredient: Peaches
Recipe He'll Never Share: "My Aunt Fanny's pickles and mandel bread"
https://crucafe.com/wp-content/uploads/2016/08/swordfish-steak_0.jpg
391
300
admin
http://crucafe.com/wp-content/uploads/2017/05/logo-cru-cafe-340x156.jpg
admin
2016-08-12 15:53:49
2016-08-12 16:04:56
Gettin' Figgy With It~ Chef Zucker Shares