When dining out do you request sparkling or tap water? We have actually seen a trend in water sommeliers, yes sommeliers for water. The trend hasn't quite reached us here on the East coast, but we would be willing to guess it will make its way eventually.
What does this mean? A sommelier, like our bar manager Jacob Fuhr, is a "wine steward". Sommeliers are trained and knowledgeable wine professional, normally working in fine restaurants, which specialize in all aspects of wine service as well as wine and food pairing.  Replace the wine with water, and there you have it!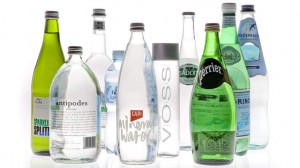 Just imagine the next time you treat yourself to fine dining not only scouring over wines but also your water. Restaurants are taking this seriously featuring in the upwards of 60 bottles of water to choose from some costing $20 a bottle!
What makes the difference in a bottle of water? Some are categorized by region (France, Italy, Germany) while others are selected by flavor being described as more earthy, or bitter.  Next time you run into the convenience store and grab a bottle of water think about what you're drinking. Would you pay $20 for sweeter, more pure water? Is your water on the rich side or bitterer?
 We're not sure how we feel about critically selecting waters- what are your thoughts?
http://crucafe.com/wp-content/uploads/2017/05/logo-cru-cafe-340x156.jpg
0
0
admin
http://crucafe.com/wp-content/uploads/2017/05/logo-cru-cafe-340x156.jpg
admin
2013-09-26 15:59:01
2013-09-17 16:00:43
Sparkling or Tap?