The TURKEY- You can roast it, brine it, grill it or take the southern route and deep-fry the bird. If you are tired of the same ole' Thanksgiving Turkey here are a few 'unique' (to say the least) variations on the traditional recipes. Try if you dare- and if you do- let us know the outcome, or even better bring some to share!
1-    Deep Fried Buffalo Turkey
If you like Hot Wings- you'll love this. It's an easy concept- deep fried and smothered in your favorite Hot Sauce. The recipe is available for all those craving a kick on SeriousEats.com.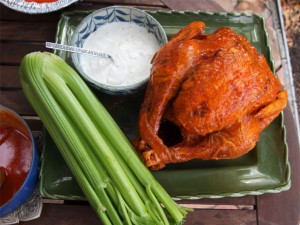 2-    BBQ Turkey
Turkey is a lot like Chicken, and who doesn't love BBQ Chicken? This turkey is actually available to order from Joe's Bar-B-Q in Texas. They make it in three 'flavors' regular-, Cajun-, or jalapeño-smoked- as long as you're in the US you can have a Joe's bird sent to you!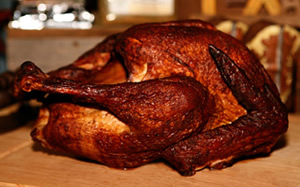 3-    Bacon-Blanketed Turkey
This bird not only is covered in a lattice-work of bacon, but is also rubbed with a blend of chopped-up raw bacon, softened butter and herbs under and on top of the skin. Throw in a 2-day dry brining process and you have one moist, tasty bird.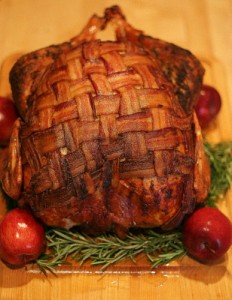 4-    TurDunkin' (As in Dunkin Donuts)
The Dunkin' Donuts turkey is brined overnight in a mixture of salt water and Coffee Coolattas, then stuffed with munchkins (yes, as in mini donuts) cooked, donut glazed and covered in sprinkles. As if that isn't enough, it gets served with coffee gravy. Want to try? We'll let you go ahead.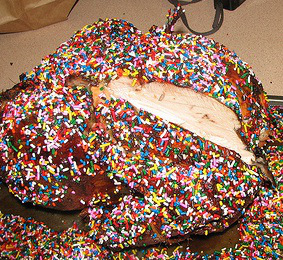 5-    Roast Turkey with Alligator Stuffing
We saved this for last because, okay, it's not necessarily a turkey recipe but ALLIGATOR STUFFING?! It had to make the list! If you happened to catch yourself a gator this year and want something new to make- give it a try, and bring us some to taste!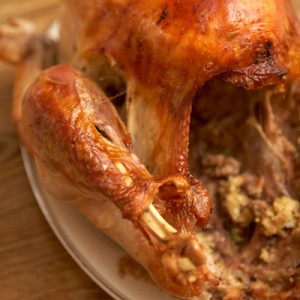 http://crucafe.com/wp-content/uploads/2013/11/barbeque-turkey.jpg
187
300
admin
http://crucafe.com/wp-content/uploads/2017/05/logo-cru-cafe-340x156.jpg
admin
2013-11-08 18:41:39
2014-05-20 16:55:18
Try out a New Turkey- If You Dare.