Cru Cafe serves up tons of cups of fresh, delicious & local King Bean coffee each day. We were excited to learn about these 7 great uses for the left over coffee grounds and extra beans.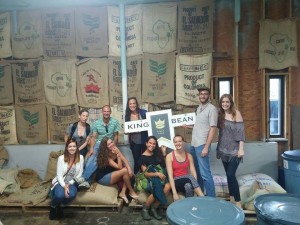 1. Repel fleas
Overheard at the dog park: "Rub damp, used coffee grounds through your dog's fur after shampooing, then rinse to repel fleas." Also overheard at the dog park: "My dog is gluten-free, vegan and enjoys yoga." But seriously, fleas suck—give this tip a try.
2. Highlight and soften your hair
Blondes can use coffee to create warm tones to their locks, while brunettes and redheads can use it to enhance reflections on naturally dark hair. Just steep the coffee grounds in two cups of hot water and rinse hair thoroughly with the mixture. You can probably send pictures to Yuban or Folgers and get coupons for some free samples.
3. Plant fertilizer
Have you noticed your plants are tired and lifeless? Have you tried talking to them and they seem disinterested? Try mixing your coffee grounds into their soil. It promotes growth and provides nourishment. Give it a try and you'll find that your relationship is back on solid "grounds."
4. Cat banisher
Not a cat person? Turns out they hate coffee. Who knew? Sprinkle coffee grounds around the soil of your house and they'll steer clear. However, they might conspire against you once you leave your property.
5. Remove funky fridge odors
Have you ever been so sleep-deprived that you failed to notice the unidentifiable rotting thing taking up residence in the back of your fridge? Yeah, me neither. But if your neighbor has this problem, let her know that when she's done tossing it out and removing her hazmat gloves, she should place a bowl of fresh, unused coffee grounds inside and leave it there for 24-48 hours. The coffee grounds will absorb the odors and she can pretend the whole thing never happened.
6. Restore furniture
Create a mixture of coffee grounds and a bit of water. The pasty combination is ideal for buffing out furniture scratches and works as a staining agent, too! Your wood furniture will be revitalized in no time. Just be sure to test a small patch first, so you don't accidentally ruin your great grandmother's armoire.
7. Organize your makeup brushes
Fill a jar with whole beans and then stick your brush handles in there. It not only looks good, but it's the perfect way to find the brushes you need and keep them separated to prevent cross contamination. Tip: Don't forget to wash your brushes regularly. Keeping them standing up straight is ideal for drying.
*Article Provided by Mom.Me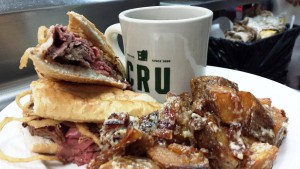 Cheers!
https://crucafe.com/wp-content/uploads/2015/06/1926051_10152118903493409_1578122341_o.jpg
1152
2048
admin
http://crucafe.com/wp-content/uploads/2017/05/logo-cru-cafe-340x156.jpg
admin
2015-06-16 19:11:47
2015-06-03 19:12:01
Cru Cafe & King Bean Coffee