We were beyond grateful for this rave review! Cru can only hope that each guest has the same great experience as did this gentleman. Remember, we always love to hear from you!
"I review restaurants on three principles: I don't mind paying for value; I am a functional germaphobe; I don't like buffet, sugar loaded, compressed bits or velveeta covered food.
That Said: Throw all that out the window because it means absolutely nothing when you are dealing with the food and service at a place like Cru.
The standards are in a class with the finest places I have eaten in Europe and America. This is the only fair way to gauge a place so completely head and shoulders above the crowd. The duck breast may have ruined me for any other anywhere else. The golden rice with shitake, haricots verts and the butter lettuce salad before that are so memorable that I am unlikely to find anything comparable fit to eat. The garlic shrimp will leave you dreamy eyed for days and even the mac and cheese is designed to make you forget your name.
Had a very nice merlot before the meal and even though I dislike sugar and cakes, etc., I had more than just a taste of the orange sherbet cake. Perfect throughout the meal!
The service was more than pleasant. Casual to a quirky fault that becomes a strength, the wait staff and the host were so very pleasant that I smiled by reflex whenever they came near.
The only discord was the coffee. I would expect a true premium bean for the coffee. A dark roast from a small batch roaster would have been absolutely over the top. The coffee was more than passable, just not at the same perfection level as the rest of the meal.
The price could have been doubled for the meal and I had to recheck myself on my facts before writing this because a standard with price included set the bar far too low for the value and quality. That was such a nice surprise that the wait staff, I am sure benefitted (as it should be).
My only regret: Dang it! I should have ordered two meals and ate portions of each rather than limit myself to just the one. The special sounded so good I had a ferocious time deciding."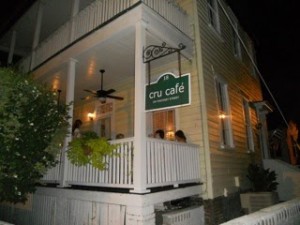 Cheers!
http://crucafe.com/wp-content/uploads/2017/05/logo-cru-cafe-340x156.jpg
0
0
admin
http://crucafe.com/wp-content/uploads/2017/05/logo-cru-cafe-340x156.jpg
admin
2013-10-18 13:54:46
2013-10-18 13:54:46
Blushing with Pride