With Independence Day still on our minds we can't think of a better American tradition than a good old fashion BURGER. Recently renown chefs, fast food joints and backyard grillers everywhere have redefined our favorite Summer meal.
According to Webster a burger is defined as "a sandwich similar to a hamburger <tofu burgers> —often used in combination". In combination of what, you may ask, and that is the best part… the answer is ANYTHING.
Serious Eats documents three main claims to the invention of the the famed 'hamburger':
Louis' Lunch: This New Haven, Connecticut, burger joint claims to have invented our favorite lunchtime (and dinnertime) meal in 1900. From its website: "One day in the year 1900 a man dashed into a small New Haven luncheonette and asked for a quick meal that he could eat on the run. Louis Lassen, the establishment's owner, hurriedly sandwiched a broiled beef patty between two slices of bread and sen the customer on his way, so the story goes, with America's first hamburger."
"Hamburger Charlie" Nagreen: It's said that he started selling meatballs at the age of 15 at the summer fair in Seymour, Wisconsin. But, homeofthehamburger.org says, "Charlie was a resourceful young man with an outgoing personality. After not experiencing much success selling the meatballs, he had an idea and located some bread. He realized people could take this meal with them if he simply smashed the meat together between two pieces of bread. He called it a "hamburger" and yes, in 1885 the burger was born at the fair in Seymour, Wisconsin."
Menches Brothers: The brothers' descendents, who now operate a small chain in Ohio called, not surprisingly, Menches Bros. claim that their great-grandfather and his brother (Charles and Frank, respectively) invented the dish at an 1885 fair in Hamburg, New York. The brothers originally sold sausages but ran out and were forced to use ground beef, which at the time was considered declassé. John Menches, in a Businessweek story, says, "Faced with nothing to sell at all, they fried [the ground beef] up, but it was too bland. My grandfather decided to put coffee, brown sugar, and some other household ingredients in it and cooked up the sandwich. My great-uncle Frank served the first sandwich, a gentleman tasted it and said, 'What do you call it?' Uncle Frank didn't really know what to call it, so he looked up and saw the banner for the Hamburg fair and said, 'This is the hamburger.' "
Today we have a zillion types and varieties of the 'Burger'. It's almost become a form of creative expression to devise the most unique combinations.  We have gone on a hunt to find the most artistic burger expressions and here are the toppings we thinks tops the list of the current Burger Craze!
*Fried Egg *Fried Green Tomato *Pimento Cheese *Fried Onions *Truffles *Pickled Jalapenos *Basil *Mac-N-Cheese *Pulled Pork BBQ *Spam *Crab Cake
What are our two most sinfully delicious Burger Finds?
1-    The Grilled Cheese Burger. Combining American's two favorite sandwiches this is a foodie's dream.  This creation is a typical cheeseburger sandwiched between TWO grilled cheeses. YUM!
2-    Donut Burger. YES. That is right, developed from fantastically unhealthy fair foods, the donut burger is now being served in many establishments. This Salty and sweet creation may be just the thing to satisfy!
What is the craziest burger you've experienced?  Share your ideas, experiences and combos with us!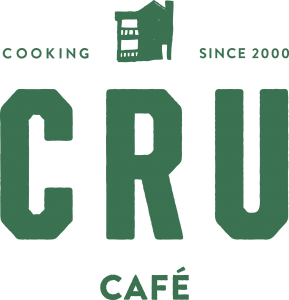 http://crucafe.com/wp-content/uploads/2013/07/945072_10151520557098409_1073092365_n.jpg
960
720
admin
http://crucafe.com/wp-content/uploads/2017/05/logo-cru-cafe-340x156.jpg
admin
2013-07-15 03:00:18
2013-07-15 12:36:01
Have You Joined the Burger Craze?