Meet Mary Scott, one of our newest Cru Cafe servers.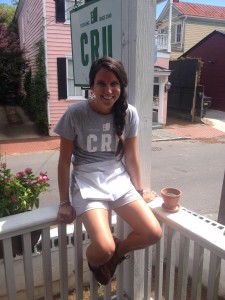 Mary has been a part of the Cru family just shy of a year, and we are so glad she chose to join us. She moved to the Holy City by way of a creekside town, Gloucester, Virginia, Summer of 2013. Newer to the food and beverage industry serving at Cru Cafe is her first full time job in the industry, not that you can tell.  "Finding a job in the food and beverage industry, in the middle of summer, in one of the most popular destination cities in the country is pretty unheard of. I was just very much in the right place at the  right time," she stated. We like to think it had a little do with her credentials and wowing personality, however.
Why is Mary a Server?
"Everyone has a story, and there are not many jobs where you get to be a part of so many people's stories. I served a mother and daughter last night who had just driven into town from Ann Arbor, Michigan, and Cru was their first stop. "It was worth the fifteen hour drive for this," the mother told me, after she had finished off the BBQ Berkshire Pork Shank. I've served honeymooners, couples celebrating fifty years, and friends reuniting after a decade. It's pretty cool to be a part of that."
Favorite Cru Cafe Menu Item:
"If I had to pick one thing for lunch I would always choose the chicken club–so simple but so delicious– with a side of truffle fries and extra ketchup. For dinner I would start with the burrata– one of our new small plate items–and then I would either have the shrimp pasta (four cheese cream sauce!) or one of the specials for my entrees. The fish feature–be it mahi, or tilefish, or a whole red snapper–is always amazing."
Why Mary chose Cru:
"I literally just stumbled onto Cru while job hunting through the city with my sister. That day I talked to the manager, he said he'd give me a shot, I came back to train a couple of weeks later and here I am! I think it helped that I had not heard of Cru, which obviously I would have if I had lived in Charleston or the surrounding area. But I was coming in with little to no knowledge of any of the popular restaurants downtown–if I'd known then what I know now I probably would have been too intimidated to walk up the steps."
Craziest request while being a server:
"Servers get all kinds of requests– I guess the strangest thing that I ever experienced–although I did not mind it at all– was when a customer videotaped me for about a minute. Through chatting we figured out that I had gone to school with her nephew which was crazy since there are about 16,000 undergrads at UVA. She videotaped me saying hi, and she sent it along to my old English pal."
Why Charleston (as if we have to ask…):
"There are basically three major activities which you may participate in while in Charleston–eating, drinking, and walking. I like to do all three of these as often as possible. I love how Charleston is a walking city–I walk to work every day from my apartment, and I walk most places as long as I can get there in less than an hour. There are so many hidden gems–downtown and in the pockets outside of the peninsula. I've been on a ghost tour, I've paddle-boarded, I've frequented all the choice happy hour locations. But the best part about living in Charleston is that you can smell the ocean almost everywhere you go."
Thanks to Mary  for being a great addition to the Cru Family, she's fit right in! 
Cheers! 
https://crucafe.com/wp-content/uploads/2013/10/Untitled.png
327
401
admin
http://crucafe.com/wp-content/uploads/2017/05/logo-cru-cafe-340x156.jpg
admin
2014-08-13 00:38:23
2014-08-05 00:39:57
The Faces of Cru: Mary Scott