In honor of Earth Day we wanted to show off our own raised gardens.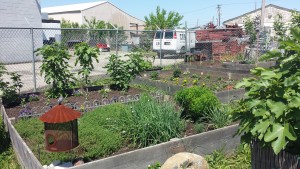 These gardens planted just a few years ago have become one of our favorite hobbies. Being able to grow and produce the food we use daily in the café has brought on a new sense of pride in our Cru dishes. We love telling our patrons what items are fresh and being able to say with confidence we know where they came from and how they were produced.
Gaylord Nelson, a former U.S. Senator from Wisconsin, founded Earth Day after witnessing the ravages of the 1969 massive oil spill in Santa Barbara, California. Moved by the incident and inspired by the energy of the anti-war movement his focus became creating a nationwide call to action for the future of our environment. On April 22, 1970 20 million Americans took to the streets, parks, and auditoriums to demonstrate for a healthy, sustainable environment in massive coast-to-coast rallies. Still today on this date programs, non-profits, organizations, business and individuals honor the work of Gaylord Nelson and pay tribute to the vision of a healthy environmental future.
For more details on the history of Earth Day visit EarthDay.org.
https://crucafe.com/wp-content/uploads/2015/04/20150421_143702.jpg
2322
4128
admin
http://crucafe.com/wp-content/uploads/2017/05/logo-cru-cafe-340x156.jpg
admin
2015-04-23 00:48:02
2015-04-23 00:48:02
Earth Day with Cru Cafe